Free Estimates
Fully Licensed & Insured
Competitive Pricing
100% Customer Satisfaction Guaranteed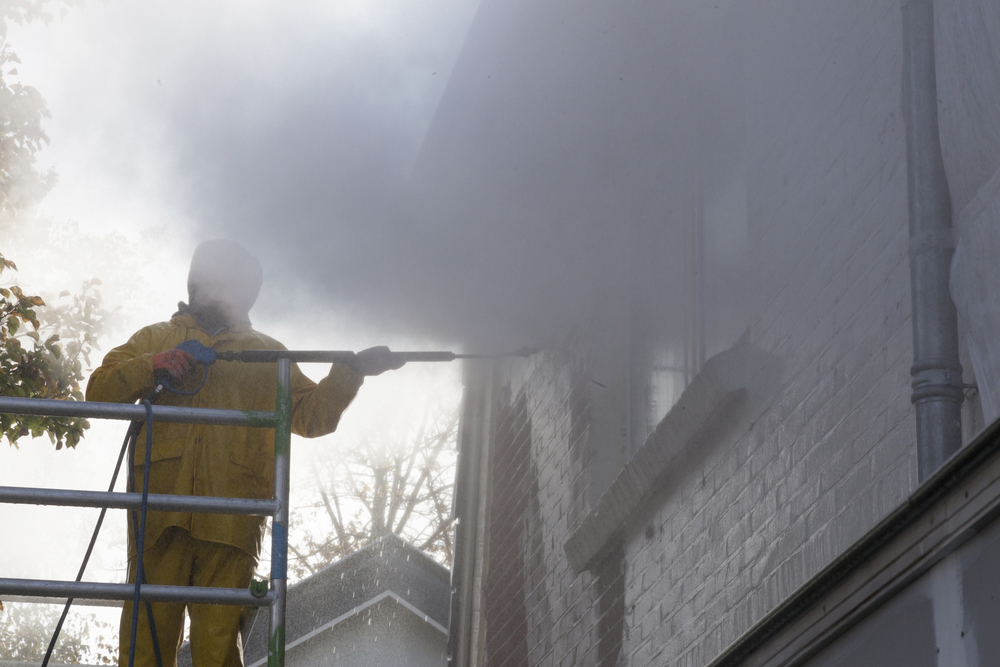 Power Washing and Soft Wash of Your Home in Carroll County
Crystal Clear Shine is the #1 Rated Exterior Home Washing Company in Carroll County. We are dedicated to reviving the beauty of your commercial and residential property. The services offered by our experts can provide a number of great benefits to any kind of property. Exterior cleaning done by pressure washing keeps the surfaces of your home clean, healthy, and attractive, all of which are factors that contribute to your property's resale value. Any time you need to have pressure cleaning performed on any part of your property, you can rely on the professionals at Crystal Clear Shine.
To Schedule a Free Estimate Call The Pro's
910-479-4892
Roof Cleaning
Is your roof looking dirty? Do you have leaves, debris, black streaks, mildew, or moss collecting on your roof? If  you are in need of roof cleaning in Carroll County allow us to offer you our 5 star rated services. Our professional roof cleaners will strive to exceed your expectations and make sure you are completely satisfied with any roof cleaning work you may need done to your property. We believe our customers deserve professionalism, thorough and detailed cleaning, punctuality, and affordable prices! Our goal is to provide roof cleaning that will leave our customers glad they chose to do business with us. We service all types of roofs, including asphalt shingles, metal, wood shake, tile, and slate roofs.
Signs You Need A Professional Roof Cleaning Service:
Signs of Mold & Mildew
When your shingles are unable to dry out due to inadequate sunlight, it creates a most environment and perfect mixture for mold and mildew to grow. Once mold makes your roof its home, it can spread quickly and be a potential health risk.
Black Algae
By the time you can start to notice black streaking caused by algae, your roof is already infected. Prevent streaking and remove it quickly with a professionals help. A certified roof cleaning technician will know the techniques and detergents to remove algae safely and effectively.
Roof Looks Like it Needs Attention
Sometimes your roof may not be covered in streaks or moss, but it just looks dirty. A low pressure cleaning solution is the best way to revive your roof and give your shingles a longer lifetime. If you are interested in our roof cleaning or any of our other services all you need to do is fill out our quick contact form, or give us a call, for a free customized roof cleaning quote!
910-479-4892
Window Washing
We know that your windows have a huge effect on your home or commercial property, and that keeping them as clean as possible is extremely important to you, so we will always do whatever it takes to make sure that you are completely satisfied with the window cleaning services we provide in Carroll County. Serving the following cities:
Cana
Dugspur
Fancy Gap
Hillsville
Lambsburg
Laurel Fork
Woodlawn
Whether you are prepping your home for the holidays, spring cleaning, or looking to upgrade the appearance of a store front, our window cleaning company can make sure that this detailed job is one you will not need to worry about. Our window cleaning services can be scheduled weekly, monthly, bi-monthly, or done when you may need. No matter how high up or how big or small your windows are, our professionals will clean your glass thoroughly and safely. Contact to schedule your free estimate today!
Gutter Cleaning
We are your gutter cleaning experts and we're proud to bring out the best in your home. With the latest equipment, years of experience, and safe methods, we make the process an easy one. Gutter cleaning is a vital asset to curb appeal, but your home gutter system also protects your property. When your gutters are clean and draining properly, they aid in keeping your exterior safe, and when they aren't attended to and well maintained, they can cause costly repairs to your property. Clogged gutters could wash out your landscaping and flower beds, cause flooding to your attic and crawl spaces, and effect your properties foundation. All this can be prevented by allowing us to handle this task for you.
If you are like most homeowners, your to-do list is never ending. Life keeps you busy enough and there are plenty of home maintenance and cleaning projects to take up any free time you may have. Our gutter cleaning experts scan take this tedious job of cleaning out your gutters and downspouts off of your hands. Our professionals are extremely detail-oriented, and we have all the needed equipment to clean your gutters safely and effectively.
Deck Pressure Cleaning
Often times are decks and patios are an extension of our home living space. Is yours cleaned and prepped for the upcoming season of entertaining? We can help! Crystal Clear Shine will remove stubborn stains, mold, and dirt buildup on your patio. Our low pressure washing service utilizes environment safe cleaners, stain removers and wood brighteners that allow us to reduce pressure dramatically. We let the cleaners do 90% of the work while the pressure washer is used as a rinsing tool. Our deck pressure cleaning services will clean and restore your wood deck safely and effectively! We work all patio materials including:
Brick Pavers
Cedar Decks
Pressure Treated Pine Decks
IPE and Mahogany
Redwood
Composite Decks such as Trex and Timber Tech
Our pressure washing services are available to all residential and commercial customers who want to clean, beautify and preserve their property. Using pressure washing, we can clean and renew many surfaces, including siding, decks, patios, driveways, walkways and more! If you have any questions about our deck washing services, give our experts a call!
910-479-4892
All About Caroll County
Located in the heart of Virginia's Blue Ridge Mountains, Carroll County offers an array of activities, scenery and has deeply rooted Appalachian culture. Carroll County Virginia is located along interstate i-77 in Southwest Virginia. This county borders North Carolina and uniquely has a diverse geography featuring breath taking mountain top views as well as scenic foothills and Piedmont vistas. The county seat is located in the historic town of Hillsville, with a population of over 29,000. Peak travel time is from June-July to enjoy warm weather and again in October to see the leaves change and cover the mountains with an array of colors. Carroll County a county of quaint little towns, scenic outdoor tours, wineries, and walking trails. There are plenty of things for the whole family to do and explore. Including paddle boarding, hiking, horseback riding, and more!
Crystal Clear Shine
Average rating:
7 reviews
Mar 27, 2019
The guys arrived on time, were professional, and pleasant to deal with. I was happy with the service and will definitely do business with them in the future. THanks for doing such a great job!
Mar 27, 2019
Great price and customer service. Very professional and I was happy with the results. I definitely recommend their services.
Mar 22, 2019


Excellent work, prompt and professional communication. Highly recommend Crystal Clear Shine!


Mar 22, 2019


Great service, fast, and my house looks amazing, Thank you!!!


Mar 16, 2019
I have a very long driveway and they cleaned it better than I've ever seen. I'm very impressed with this company and would highly recommend them! I will definitely use them again. Great job!
Mar 16, 2019
Excellent Service. I have been using their service for last 3/4 years. Just awesome. I will keep using their exterior home washing services in the future.
Mar 16, 2019
I shopped around and Crystal Clear had the best price I could find. I had my driveway and back patio washed and it looks incredible. The pavement looks brand new. The employees were very responsive and professional. Would highly recommend.