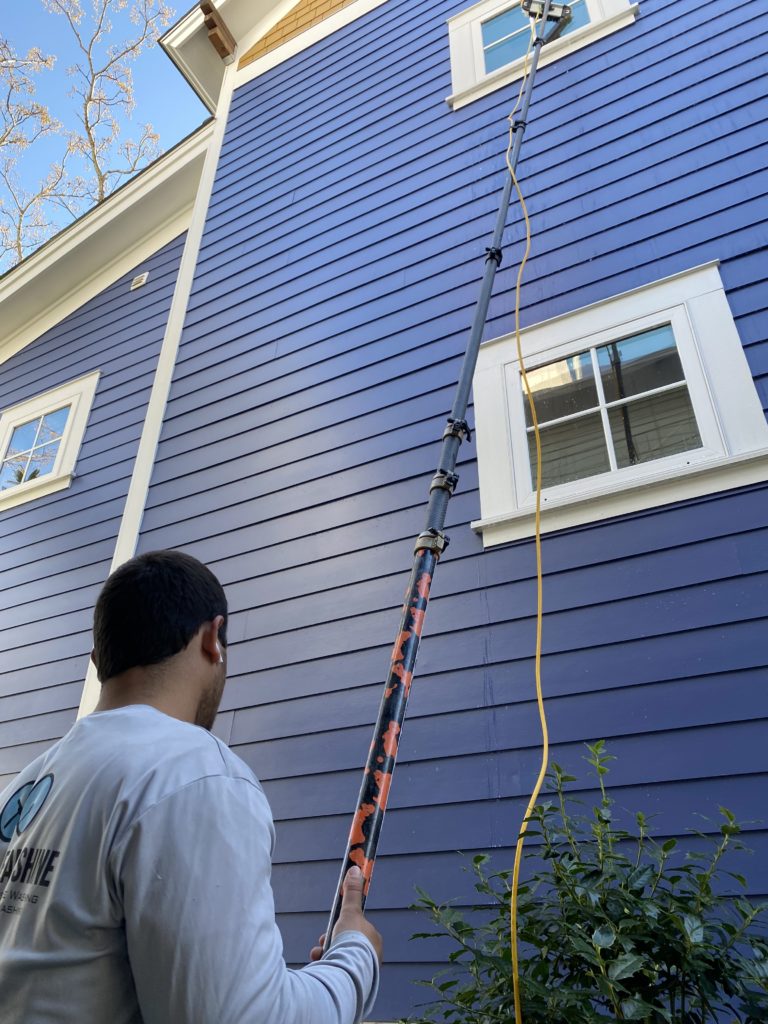 How Home Softwash Can Help in Residential Maintenance
Are you looking for an efficient and effective way to keep your home's exterior in top shape? Softwashing is a revolutionary maintenance solution that could be the answer! Softwash is a relatively new process used by many homeowners, businesses, and organizations across the country. By combining safe detergents with low-pressure water spray, soft washing provides an optimum surface cleaning solution that can help protect your investment over time. Keep reading to learn more about why you should consider choosing home softwash for maintenance.
What is Softwash and How Does it Work
Softwash is a relatively new cleaning method that utilizes a unique chemical solution to gently remove dirt, grime, and other unsightly substances from a variety of surfaces. Unlike traditional power washing practices, which use high-pressure water to blast away dirt, softwash requires only gentle spraying of the specially-formulated cleaning solution. As the solution works its magic, it safely loosens and removes dirt, mold, and other buildup without damaging delicate surfaces. This makes softwash perfect for cleaning roofs, walls, and other surfaces that require a delicate touch. Whether you're looking to keep your home or business looking its best, softwash is a powerful solution that gets the job done quickly and effectively.
Advantages of Soft Washing Your House
Softwashing your home offers a number of advantages over traditional power washing. By using a gentler cleaning method, softwash helps keep delicate surfaces from becoming damaged or eroded by the high-pressure water used in power washing. It also preserves the integrity of siding and other materials that can be damaged if not treated with care. Softwash is also more effective than other cleaning methods when it comes to removing stubborn dirt and grime, making it the perfect choice for homeowners who want their house to stay looking its best for years to come. Additionally, softwash is an eco-friendly option that uses fewer chemicals than traditional power washing techniques. 
Common Uses for Soft Washing Around the Home
Softwashing is versatile and can be used for numerous tasks around the home. Many homeowners choose softwash for roof cleaning, as it effectively removes moss, algae, and lichen without causing any damage to the shingles. This method also works excellently for cleaning siding, whether it be vinyl, wood, or brick, by gently eliminating grime and mildew. Softwashing is also ideal for cleaning decks and patios, restoring their original appearance without the risk of splintering wood or eroding stone. Additionally, it can be used for cleaning outdoor furniture and play equipment, removing build-up without risking damage to the material. Ultimately, softwash is a superb choice for any task that requires a delicate, yet powerful cleaning solution.
How to Prepare Your Home for Softwashing
Preparing your home for softwashing is a straightforward process. Start by removing any loose items from the area to be cleaned, such as outdoor furniture, toys, or plant pots. This not only prevents these items from being damaged, but also allows for a more thorough cleaning. Cover any electrical outlets or fixtures to keep them dry during the washing process. If you have delicate plants or shrubs near your home's exterior, consider covering them with a tarp to protect them from the cleaning solution. Make sure all windows and doors are securely closed to prevent any solution from entering your home. Finally, it's a good idea to inform your neighbors about your planned softwash, particularly if you live in close proximity. This can help to avoid any potential issues or misunderstandings.
Tips for Finding a Quality Softwash Professional
When it comes to finding a quality softwash professional, there are a few things you should keep in mind. Look for residential washing companies with experience and expertise in the field that can provide references from satisfied customers. Make sure they follow all safety guidelines and use the proper equipment. It's also important to ask about their cleaning products and solutions; make sure they're non-toxic and eco-friendly. Finally, look for a soft washing professional that is both friendly and knowledgeable – they should be willing to answer any questions you may have about the process or offer helpful advice. By following these tips, you can easily find a reliable softwash specialist who will give your home's exterior the care it needs!
Softwashing is an effective, safe solution for maintaining the exterior of your home. Not only is it more gentle on delicate surfaces than power washing, but it also produces superior results. Softwash can remove stubborn dirt and grime without damaging your home's materials or putting you at risk. By choosing this method over traditional power washing techniques, you can help preserve the integrity of your home's exterior and keep it looking its best for years to come. Now that you know the many benefits of softwash, why not give it a try? You won't regret it! 
48 Covil Ave, Wilmington, NC 28403
(9104) 794-892