Free Quotes
Licensed and Insured
Fully Uniformed
100% Satisfaction Guaranteed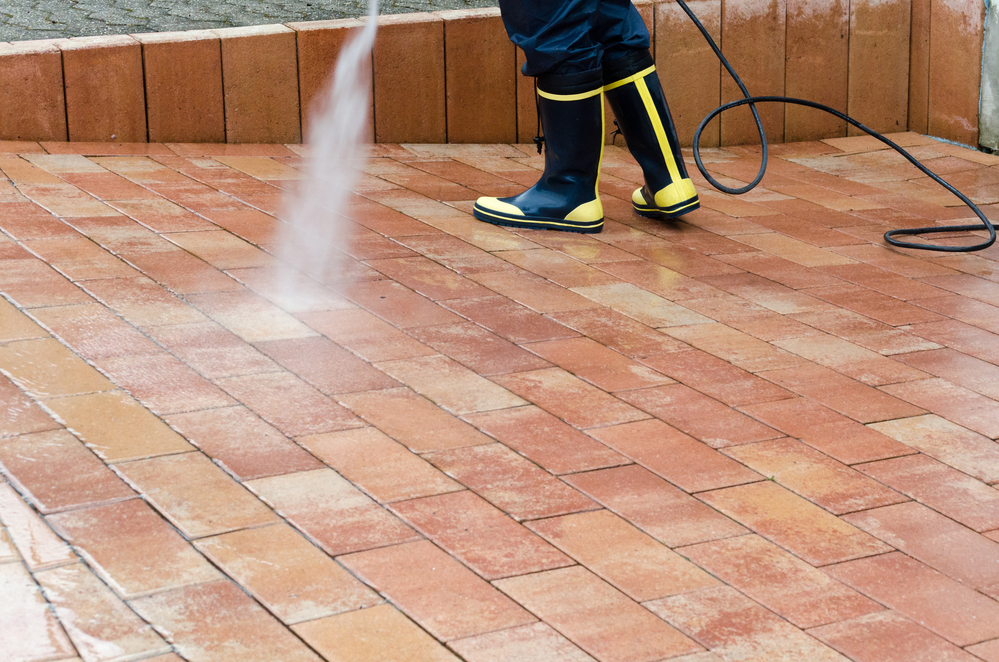 Power Washing and Soft Wash of Your Home in Kure Beach NC
Here at Crystal Clear Shine we know how to keep each of our new and current customers satisfied, by continually to deliver 5 star services. We thoroughly enjoy what we do, and it shows through our hard work. With that being said, we take the time to train each employee to achieve maximum results at every job. With top rated power washing and soft washing services, we are your go to company for all your property cleaning needs.
Power Washing Services: are perfect for stubborn stains, driveways, oil spills on concrete, and dirt build up on hard surfaces, such as vinyl or aluminum siding. With the correct amount of pressure and detergent mixture we can clean just about any surface you send our way.
Soft Washing Services: is great for roofs, wood siding, patio furniture,  and more. The majority of the time we will use a low pressure wash to clean all surfaces which ensures 100% safety to any material. If you are ready for your residential or commercial property to have its beauty restored, contact our team today. We are ready for your call!
910-479-4892
Roof Cleaning
If you are in the market to sell or buy a home, you will understand how important it is to have a clean roof. A roof has the power to add or take away curb appeal instantly! When a potential buyer comes to see a home, the first thing noticed is how well kept a home is- including how clean the roof is. Today's roofing materials are higher in quality than they once were, a home's existing roof may have decades of wear left before it will need replaced. If, however, the roof's surface is marred by stains and dirt or coated with rotting leaves or a layer of moss, buyers may automatically assume the roof is in poor condition and lose interest in the home.
Its time to hire the best roof cleaners in Kure Beach North Carolina to come clean your home for you. No matter how clean, neat, and attractive the interior of the home is, buyers who are turned off by the appearance of the roof may change their mind about viewing it, causing the seller to lose out on a potential offer. Do not allow your roof to cost you the sale, let our team of skilled roof cleaners come to your property and wash your roof today!
Window Washing
Most of the time we do not realize how badly our property may need their windows washed. Windows can be full of spider webs, fingerprints, smudges, and dust. By cleaning your glass regularly you will see and feel a difference. Allow us to help save you the time of trying to locate the right equipment, climb ladders, and find the right solution that will not cause streaking on your glass. We have the man power and the perfect detergent that will leave your windows shining.
Our window cleaning process includes:
Applying professional grade glass cleaner to window
Scrubbing glass that will remove smudges and dirt
Removal of sticker residue and paint
Squeegeeing water from window leaving it streak free
Drying all edges to prevent dripping
Wiping sills and window frame
Screen cleaning * Upon request
One last inspection ensuring your glass is sparkling and smudge free
Gutter Cleaning
We specialize in both Commercial Gutter Cleaning, and Residential Gutter Cleaning. Our trained gutter technicians have the know-how and experience to make sure your gutters are cleaned and flushed properly. Proper drainage is very important for the well being of your home and it's foundation. The gutter cleaning pro's at Crystal Clear Shine will leave your gutters empty, clean, and ready  to catch water and quickly carry it away.
Regular gutter maintenance is vital to reduce the likelihood of water damage to your home or business and runoff damage to your landscaping. Especially if your home or business is surrounded by trees, we recommend cleaning at least twice a year.
When you choose us to assist you in clearing your gutters, we are determined to keep your gutters- debris and clog-free, to maintain proper water flow all year long, regardless of the weather! What are you waiting for? Do not let clogged gutters be the reason of costly repairs, allow us to help you today! 
910-479-4892
Deck Pressure Cleaning
Your home's outdoor structures including: decks, patios, fences, gazebos, all enhance the beauty and value of your property. But when left neglected it is very easy for them to become and eyesore. Let us help you maintain he beauty and integrity of your outdoor structures with our professional cleaning services. Our team is experienced in cleaning and taking care of all material types, including: wood, aluminum, and composite surfaces such as Trex Decking. We will spray, wash, rinse and remove dirt and mildew build up quickly and effectively.
With our deck washing services we will use just the right amount of water pressure; enough to thoroughly clean the surface but not so much that damage occurs. Cleaning decks with too much pressure will completely ruin it, leaving total replacement as your only alternative. This is why hiring a professional deck restoration company to do the job for you is a better idea than taking the risk of damaging your deck beyond repair. Save yourself time and money by calling the professional deck washers of Kure Beach Nc.
All About Kure Beach North Carolina
Kure Beach is a town in New Hanover County, North Carolina about 15 miles south of Wilmington. This lazy beach town is situated on an island between Carolina Beach and Fort Fisher. With its relaxing atmosphere and small town charm, it is the perfect recipe for the ultimate family vacation.  It is home to the oldest fishing pier on the atlantic coast, it has an oceanfront park for families to spend time at, a nearby state aquarium and historic fort and beautiful seaside surroundings.
Over the years, people have continued to make Kure Beach their home. Years ago, they built charming beach cottages, many of which are still here today. More recently, larger homes are being built and painted in beautiful tropical colors. Along with the clean, expansive beach, this majestic place is surrounded by nature with vistas of the ocean and the river. The area is perfect for biking, kayaking, swimming, surfing, hiking, going for a walk or just lounging on the beach. Plus, Kure Beach is compact enough that you are never further than a mile from the ocean.
910-479-4892
Crystal Clear Shine
Average rating:
7 reviews
Feb 26, 2019
These guys know what they are doing! They can remove streaking from roofs and mold from siding. Thanks for doing such an excellent job with our home. We will definitely be loyal customers for the years to come.
Feb 26, 2019
This company does amazing work. We called them to help us clean our patio to get it in shape for the summer, and they cleaned it so well it looks brand new!
Feb 20, 2019
5 star company, very reliable and trustworthy.
Feb 20, 2019
Lovely people to work with. Each worker was polite and made sure to clean up after themselves after cleaning our windows. We are going to call soon to get our home power washed.
Feb 14, 2019
Great company that works hard and always shows up on time. Thanks for cleaning our roof!
Feb 14, 2019
We recently contacted Crystal Clear Shine to come give us an estimate for our windows, and they scheduled us quickly and came to do the work a couple of days later! Very impressed with how smoothly everything went. We will be calling again.
Feb 14, 2019
Great Services, affordable pricing! I highly recommend Crystal Clear Shine.