House Power Washing Ogden NC
• #1 Rated Power Washing Company North Carolina
• Licensed, Insured & Bonded
• Trustworthy & Reliable
• 100% Customer Satisfaction Guaranteed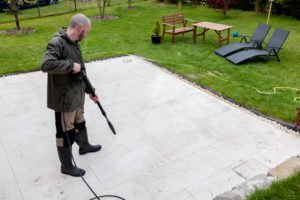 Power Washing and Soft Washing of Your Home in Ogden NC
With a highly effective cleaning combination of soft washing and power washing, our certified team of cleaners will shine up your commercial or residential property in no time. While we use pressure washing for stubborn stains, and tough surfaces, concrete slabs, driveways, vinyl siding, and walkways. We also use a deep cleaning method called soft washing for the majority of surfaces. Soft washing penetrates into the surface and gently cleans stains and dirt build up with immediate results. For a free and fast estimate contact your Local Pressure Washers!
100% Satisfaction Guaranteed
910-479-4892
Roof Cleaning
Our roof does a lot for us, our families, and our belongings. It keeps us protected and safe from harsh weather conditions, outside elements, falling debris, etc. But the question is, how well are we maintaining and treating our roof? The biggest way we can care for our roof, is by freeing it of molds, fungi, and fallen limbs. Regular roof cleaning maintenance is vital for healthy shingles, and a sturdy structure. When you hire our roof cleaning professionals we guarantee complete customer satisfaction. We will remove streaking caused from black algae, colored mold due to moisture, and dirt build up. The expert washers of Crystal Clear Shine use a combination of the industries leading cleaning detergents and powerful techniques. Our two roof washing methods are High Pressure Washing and Low Pressure Detergent Cleaning.
High-pressure Roof Cleaning
Can be an effective way to remove algae
Removes stubborn stains
Best used for tiled or metal roofs
Low-Pressure Detergent Roof Cleaning
Ideal for any type of roof
Efectively removes molds and algae
Typically, chlorine or sodium hydroxide solutions are used as the chemical washing agent
Achieving a clean roof is not easy to do alone, or safe. Which is why we recommend hiring your local roof washing pro's. Some people may choose to conduct such operations on their own, yet it is critical to know that pressure cleaning is not like just hosing off your shingles. Not doing it properly can injure you, and cause damage to your roof and your surroundings. Leave yourself in our professional hands and avoid all these risks by letting us handle your roof wash for you.
 100% Environmentally Friendly
 Safe for Families & Pets
 Highly Effective Cleaning Methods
 If you are interested in receiving a free roof cleaning estimate, 
Call Us Today
910-479-4892
Window Washing
Finding the time to clean your home or businesses windows yourself can be a struggle. Which is why we are here to provide our 5 star rated window washing service to all of our neighbors here in Ogden North Carolina. We have been cleaning residential and commercial properties locally for years and we are ready to help you next!
No Need to Worry About:
finding the right cleaning solution
streaking and smudging the glass
climbing ladders and putting yourself in a dangerous situation
making the time to do it yourself
Benefits of Hiring a Professional Window Cleaning Company:
Allow More Light
Strengthen Integrity of Glass
Clean Home of Unwanted Dirt
Add Instant Curb Appeal
Our courteous, friendly experts will quickly have your windows and house sparkling clean, letting in more light, and improving the appearance of your home. At Crystal Clear Shine windows are cleaned by hand and all methods are environmentally safe and plant friendly.
Gutter Cleaning
Countless home-owners, tenants, property managers and Realtors have trusted Crystal Clear Shine to care for their gutters and downspouts since we began. Our gutter cleaning service provides quick and affordable gutter and downspout cleaning for residential properties and commercial properties along with a 100% complete satisfaction guarantee.
When should I clean my gutters? 
While it depends on what kind of trees you have around your home, you should have your gutters cleaned once or twice a year, especially since a problem may be not be apparent. Your homes gutter system plays an important role in the health of your home. On top of that it, you should have them checked and cleaned if you notice any of the following problems:
Water isn't draining from your downspouts
You can see leaves or other debris coming out of your gutters, or worse, have plants or moss growing in your gutter
You can see your gutters beginning to sag
Water comes off the edge of your gutters when it rains
There are many contributing circumstances that can lead to problematic gutters, and Crystal Clear Shine's Gutter Cleaning Service is here to take care of you! Contact us to schedule regular gutter maintenance so you don't have to stress and worry about keeping them clean anymore.
Deck Pressure Cleaning
Proper deck cleaning and staining is crucial to longevity. Over time, mold, mildew, and dirt accumulate on your deck's surface as your sealant slowly gets worn away. Power washing gives your deck a heavy-duty clean, while a fresh coat of sealant protects your deck from water damage and everyday wear and tear. Unfortunately, however, if done incorrectly, deck pressure washing can easily mar your wood, causing permanent damage to your deck. Which is why you need to hire the expert deck cleaners. We are here to serve our neighbors in North Carolina. Here at Crystal clear shine we have perfected our deck washing techniques and solutions for mold, mildew, and dirt build up all while adding life back into your patio. Plus, regular pressure cleaning will rid your homes exterior of harmful bacterias and by removing these contaminants, it will keep you and your family safe from getting sick.
When you choose us to assist you in pressure cleaning your deck, you'll be protecting it from the elements and adding literal years to your deck's life. It's time to start thinking about your deck's future, protect your investment and call us today to get your free quote for pressure washing your deck.
910-479-4892
All About Ogden North Carolina
Ogden North Carolina is rated #1 places to raise a family in Hanover County. It is both a suburb of the city of Wilmington and part of the Wilmington Metropolitan statistical area . Living here offers residents a suburban feel, all while having the convenience of city life close by. When you drive through the town you will see there is not a shortage of parks to visit for children, pets, and a good old fashion picnic. The local public schools are highly rated making it a great area for families to raise children from pre-k and up.
This quaint town loves to provide fun for families all throughout the year- sponsoring 5k races to festivals and games for all. The first Sunday of every month all residents of Hanover County, receive free admission to visiting Airlie Gardens located in Wilmington. Many love to visit our local breweries including the tap room where every October we enjoy Oktoberfest together and welcome all in the town and surrounding cities to join us.
Fun Family Activities
High Rated Public Schools
Fresh Caught Seafood
Local Breweries
Relaxing Parks for All
Ogden North Carolina is great town for both visitors and locals, so what are you waiting for come and see for yourself! We are sure that you will enjoy your time in this beautiful suburb of Wilmington.
Crystal Clear Shine
Average rating:
7 reviews
Feb 13, 2019
Thank you for making our home look its best! Your soft washing service cleaned up our siding and our roof by removing all mold and streaking. We will be recommending you to all our friends and family!
Feb 13, 2019
Excellent customer service, fast scheduling, affordable prices! This company is the best around.
Feb 6, 2019
Very impressed with this company! They helped us clean up our outdoor patio, and made it look brand new. Will definitely hire again!
Feb 6, 2019
We recently got our windows cleaned by crystal clear shine, and they did a fantastic job. They lifted the windows and cleaned the sill, screens, and made each window spotless! 5 stars!
Jan 31, 2019
This company provides excellent roof washing services. They removed the ugly black stains from our roof and made our home look amazing. I highly recommend this company!
Jan 31, 2019
Every service we receive always exceeds our expectations. These guys provide great house washing services and the employees are all very friendly.
Jan 31, 2019
Crystal Clear Shine helped get our home back in shape and add value back into our home! Great service!