Free Estimates
Fast & Reliable Service
Licensed & Insured
100% Customer Satisfaction Guaranteed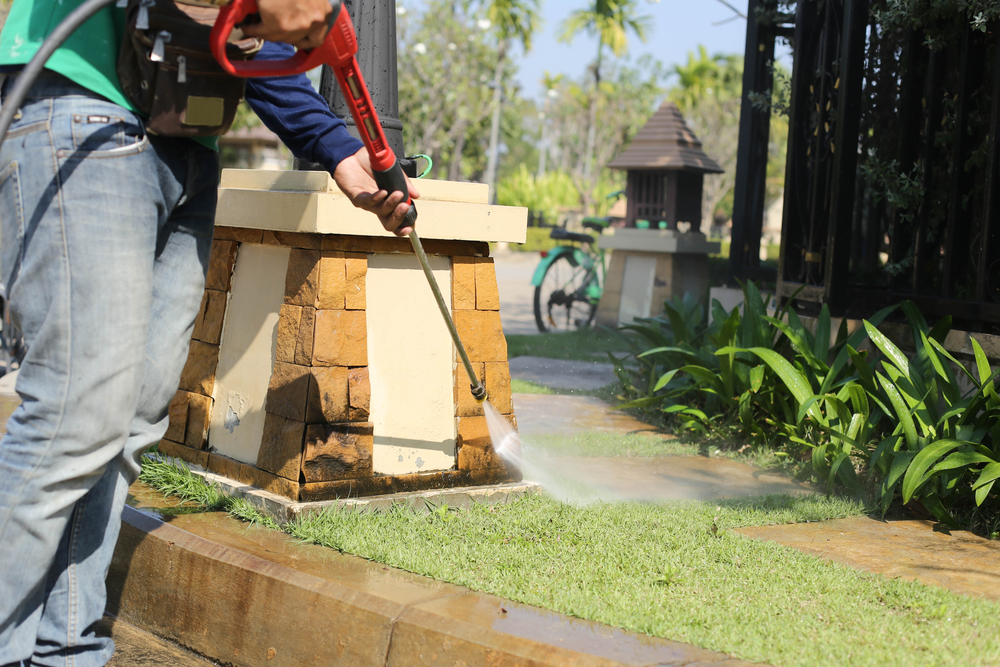 Power Washing and Soft Wash of Your Home In Southport NC
Whether your home is an investment for life or you're preparing to put in on the market, curb appeal is a major boost to value. Pressure washing brings you a better property with our house washing services. Here at Crystal Clear Shine we have the right equipment and techniques to thoroughly clean any commercial or residential property, from the roof, porch, and to the driveway- we do it all! Our efficient washing methods will scrub, clean, and remove all dirt and mildew residue. We offer pressure washing and soft washing options. One of our skilled technicians will inform you which will be best for your specific surface.
Power Washing Services: are perfect for stubborn stains, oil spills on concrete, alumninum siding and dirt build up on hard surfaces. With the appropriate pressure and solution of detergent we can clean just about any surface you send our way.
Soft Washing Services: is great for roofs, wood siding, patio furniture, and more. The majority of the time we will use a low pressure wash to clean all surfaces which ensures 100% safety to any material. If you are ready for your residential or commercial property to have its beauty restored, contact our team today. We are here to help!
Call Today For a Free Estimate!
910-479-4892
Roof Cleaning
Dark staining caused by black algae, is the #1 cause for complaint on a home. At first, many people may not even realize they have an algae problem. Unfortunately, the time that we can finally see the severe staining on our roofs, the black algae has already spread.
This is when you need to call the experts to get rid of it once and for all. At Crystal Clear Shine we have been transforming roofs for years. We offer a professional low pressure roof cleaning process that not only is safe for your roof but it will also kill the algae at their roots and spores preventing rapid growth after cleaning. Having your roof properly maintained throughout the years will prolong your roofs life span and also keep your homes curb appeal in top shape.
Our team of roof cleaning techs will show up promptly and ready to work. Each employee has the know-how and the determination to clean your home and make it shine. Contact your local roof cleaners in Southport North Carolina today!
910-479-4892
Window Washing
Clean windows can change your view, literally! The fingerprints and residue creates a haze on the glass causing smudges and fogging. By having our window cleaning pro's remove all the dust and haze it will feel so much lighter and brighter inside your home or business. Once you see how clean and clear we will make your windows look you will never want to see them any other way!
Regular window cleaning is essential to home maintenance. Regular cleaning and care of your windows can prolong their life-time. Misplaced sprinklers and faulty rain-gutters can cause water-damage to your windows. We will remove these water-stains before they become permanent, and will offer advice on how to take better care of your windows. Call now to schedule a free estimate for your commercial or residential property. We are the window washing pro's will all the right equipment, tips, and latest techniques.
At Crystal Clear Shine we aim to make each house cleaning process as seamless as possible for our customers. Each customer of ours can expect:
Free estimates so you know what you are getting
Superior equipment and cleaners that give a facelift to the dirtiest exteriors
Convenient scheduling to maximize convenience
Safe, reliable solutions that always deliver the same result: Unparalleled quality.
Quality service that addresses exteriors of all materials
Gutter Cleaning
We specialize in both Commercial Gutter Cleaning, and Residential Gutter Cleaning. Our trained gutter technicians have the knowledge and experience to make sure your gutters are cleaned and flushed properly. Proper drainage is very important for the well being of your home and it's foundation. The gutter cleaning pro's at Crystal Clear Shine will leave your gutters empty, clean, and ready  to catch water and quickly carry it away.
Regular gutter maintenance is vital to reduce the likelihood of water damage to your home or business and runoff damage to your landscaping. Especially if your home or business is surrounded by trees, we recommend cleaning at least twice a year.
When you choose us to assist you in clearing your gutters, we are determined to keep your gutters- debris and clog-free, to maintain proper water flow all year long, regardless of the weather! What are you waiting for? Do not let clogged gutters be the reason of costly repairs, allow us to help you as soon as possible!
Deck Pressure Cleaning
Mold, rot and cracks can creep upon your deck, weakening its overall structure until it eventually needs to be replaced - costing you thousands of dollars. To avoid this, keeping your deck clean of hidden mildew and rot is one of the most effective steps to prevent deck damage over time, as rotting wood can be damaged much more easily. Pressure washing is just the trick to remove that grungy layer and make your home look new once again. By having a regular scheduled cleaning, you can be worry-free knowing that you will enjoy your deck for years to come. Even with the harsh elements from the weather, you can protect your deck and patio by consistently maintaining it and keeping it clean. We will clean any deck or patio surface you have:
Wood
Brick
Composite Decking
Aluminum
Polymer Decking
With us, you get high quality work done in a timely manner. Our deck washing service provides you with a professional deep cleaning that will remove all mildew and dirt which will allow you to easily apply a quality grade deck staining/deck sealing product that will protect your deck for the years to come.
All About Southport NC
Southport is a city in Brunswick County, North Carolina, near the mouth of the Cape Fear River. Not only is Southport a charming coastal town, but it has been a popular filming location for television and movies.
Steeped in history and picturesque beauty, there is little wonder why Southport adopted the name "America's Happiest Seaside Town." A visit to this historic maritime town takes you back into a distant past of pirates and privateers, antebellum Southern belles and blockade runners. Seafarers have been frequenting this community since as far back as the early 1500s, and today, Southport is as popular as it has ever been.
There are many sighs to see and activities for everyone to enjoy, including: Taking a relaxing stroll down the Southport Pier and Riverwalk, catching a ride on the Southport Fort Fisher Ferry, kayaking, watching the sunset on an evening boat cruise, quenching your thirst wine tasting, and visiting the local art galleries. There is so much history in Southport and so many adventures to be had.
910-479-4892
Crystal Clear Shine
Average rating:
7 reviews
Feb 26, 2019
My husband and i are very impressed with crystal clear shines quality. Scheduling was easy and our windows and gutters look great!
Feb 26, 2019
Every time we work with crystal clear shine, they do tremendous work. They have cleaned our roof, siding, and windows. I think next time we will have them clean our gutters.
Feb 20, 2019
Great people, Good prices, Fast services!
Feb 20, 2019
5 star power washing services! They cleaned up our siding and got rid of all the mildew and dirt. I highly recommend this company.
Feb 15, 2019
Fast and easy scheduling. The workers came prepared to work, and they were very respectful of our belongings when they came inside our home to do the interior windows.
Feb 15, 2019
We never knew how clean our windows could get until crystal clear shine came to our rescue. They do great work at great prices.
Feb 15, 2019
Great company! Each employee that came to do our store front windows was efficient and worked hard.