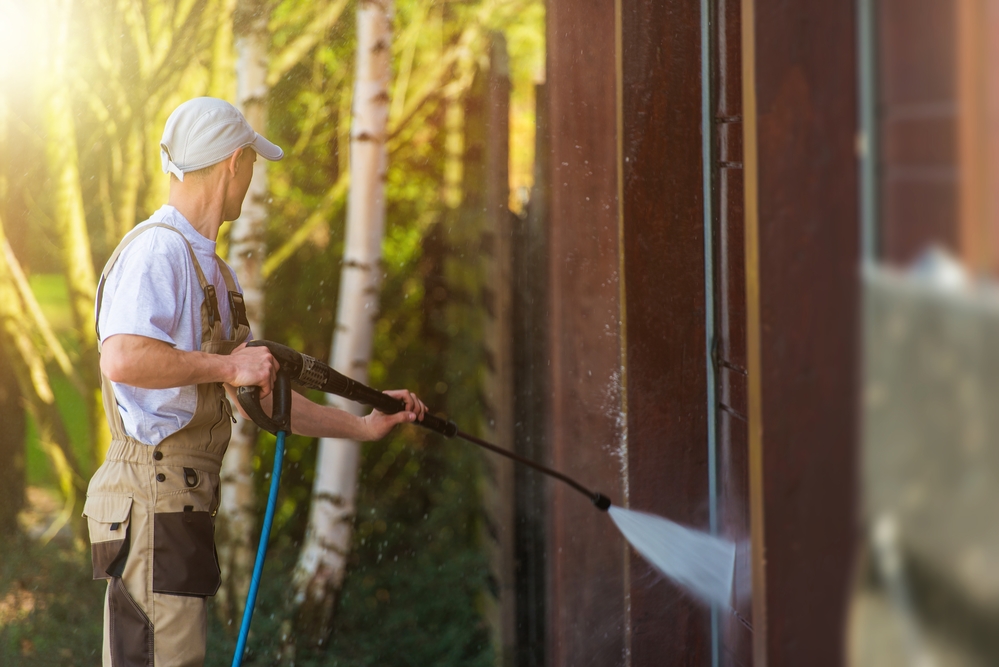 Licensed, Insured & Bonded
Fully Uniformed & Professionally Trained
100% Customer Satisfaction Guaranteed
POWER WASHING AND SOFT WASH OF YOUR HOME IN WRIGHTSVILLE BEACH, NC
Ready to clean up your home in Wrightsville beach North Carolina? We are the #1 Rated Power Washing Company to help. Our extremely effective washing techniques will remove the most stubborn of stains and grime off your home. It is our duty to restore curb appeal and get the surface dirt free! We have thoroughly taken the time to professionally train each employee to understand the correct amount of pressure to be used on a home, when to use which detergent, and how long to allow the solution to soak for. It is our promise to you that our team will arrive on time and be fully prepared for the task! With our soft washing and power washing techniques we will achieve maximum clean results!
For a Free Estimate Call
910-479-4892
Roof Cleaning
Regular roof cleaning, repair, and maintenance are an essential part of your home maintenance routine. As roof cleaning is often overlooked, it increases the chances of major problems occurring with your home, including root rot, structural damage, and costly repairs. Regular roof cleaning is the best way to ensure a healthy roofing structure. When the time comes to have your roof cleaned, it is essential to hire a trusted and reputable roof cleaning company. Here at crystal clear shine, all our technicians are highly skilled, knowledgeable, and skilled to properly clean your roof in the most professional manner. We ensure safe and effective roof cleaning methods and 100% satisfaction guaranteed. The two methods we use are: High Pressure Washing & Low Pressure Detergent Cleaning.
High-pressure Roof Cleaning
Can be an effective way to remove algae
Mostly used for tiled or metal roofs
Low-pressure Chemical Roof Cleaning
Ideal and for any type of roof
Efectively removes molds and algae
Typically, chlorine or sodium hydroxide solutions are used as the chemical washing agent
As a professional roof cleaning company, the main technique we choose to use is a low-pressure wash. This process is much more efficient at safely cleaning your roof. The biggest mistake a homeowner can make is hiring an inexperienced company that wants to clean your roof with the high-pressure. That type of equipment is designed to spray water at a very high pressure on a concrete surface. An inexperienced company can easily cause damage to your roof by not fully understanding which method is best for your roof. Allow our experienced roof cleaning experts to help you today.
Window Washing
Window cleaning is one of our specialties. Our techniques will leave your glass sparkling and streak free. We use a mild, non-toxic solution that is safe for the environment and for your family. We highly recommend an interior and exterior window cleaning at least twice a year and addition exterior cleanings as needed.
Residential Window Cleaning: Our team thoroughly cleans glass, screens, sills and ledges. We work closely with our customers and neighbors to make sure they are happy with the services provided. It is our goal to leave you windows that will glisten from the streets and stay cleaner for a longer period of time.
Commercial Window Cleaning: A business gets one chance to make a good first impression. Crystal Clear Shine ensures your clean windows reelect a positive one t your customers by providing glass cleaning services weekly, monthly or seasonally as needed. Our staff will provide efficient service at your restaurant, grocery store, car dealership, and boutique just to name a few. No business is too large or too small!
Contact Us At
910-479-4892
Gutter Cleaning
Flooding basements and foundation issues are just a couple of the horrible and costly things that can happen to your home when your gutters are not functioning properly. Gutters that are clogged from leaves, dirt, and other debris will cause overflow when it rains and will eventually cause flooding around your home.
Countless home-owners, tenants, property managers and Realtors have trusted Crystal Clear Shine to care for their gutters and downspouts since we began. Our gutter cleaning service provides quick and affordable gutter and downspout cleaning for residential properties and commercial properties along with a 100% complete satisfaction guarantee. Allow us to be the ones to look after your gutters for you, by scheduling a regular maintenance cleaning. Our gutter cleaning pro's will climb their ladders and check on your gutters and downspouts to make sure they are flowing properly, clear all of the debris, and drain them for their final cleaning. If you are interested in getting your gutters cleaned, we offer free home estimates. There are a few things we look at when giving a bid to our neighbors:
The linear feet of gutter and the number of downspouts.
The size and number of stories of your home, obstacles, and the pitch of the roof.
The amount of debris that has been clogged in your gutters and downspouts
If you have leaf guard that has to be removed before the cleaning can begin.
After taking these 4 things in to consideration, we will leave you with our estimate. If you aren't home, we will leave it noted in detail for you at your door, so you can think about it and give us a call when it is convenient of you.
Deck Pressure Cleaning
When the weather is right, there's often no better place for family and friends to gather than on the back deck/patio. Decks are built level to the ground; therefore, rain and snow don't run off the floorboards quite as easily as on a non-level surface. Any dirt, algae, and other contaminants that happen to be sitting on the surface tends to stay there unless you take steps to remove them. Runoff from your roof or home easily brings any contaminants from those surfaces right on to your deck with nowhere to go. Often times we find that the deck can be the dirtiest part of the exterior of you home.
Our pressure washing services are available to all residential and commercial customers who want to clean, beautify and preserve their property. Using pressure washing, we can clean and renew many surfaces, including siding, decks, patios, driveways and walkways. Our industrial, high temperature power washing treatment combined with brush cleaning removes dirt, mold, grime and stain from most surfaces. We don't stop after deck washing! We have a long list of services to offer your home or business, so be sure to read on or ask one of our expert cleaning techs for more information.
Crystal Clear Shine deck cleaning is ideal for wood and vinyl surfaces alike. We use safe, appropriate pressure depending on the material of your deck, along with a cleaning agent to remove algae and mold, and finally the right time for the solution to soak. It is our guarantee to get your exterior living space ready for entertaining and stay barefoot friendly and kid friendly!
ALL ABOUT WRIGHTSVILLE BEACH NORTH CAROLINA
There are many reasons to visit Wrightsville Beach North Carolina. The town consists of 4 miles of a long beach island, an interior island called Harbor Island and pockets of a commercial property on the mainland. This sweet beach town is located just outside of Wilmington. It is known to be the most accessible beach in all of North Carolina connected via Interstate 40. If you feel like taking a deep sea charter and catching your own fresh fish there are licensed fisherman who will be more than happy to schedule an excursion with you. Catamaran tours, sunset cruises, and paddle boarding adventures are all things you can experience in Wrightsville beach. Sit back, relax and enjoy an incredible day or evening on the water.
The town itself is very historic, receiving its name from the Wright Family of Wilmington. First the town was known simply as The Banks, and then as Ocean View Beach before finally adopting its official name in 1899. Over 100 buildings on the north end of the town were destroyed by The Great Fire of 1934. Then in 1954, Hurricane Hazel hit Wrightsville Beach destroying over 200 houses and damaging 500 plus. The town has seen it all, yet only a few years after the hurricane a new era began in the 1960's rebuilding the homes that were lost. Currently there are over 2,600 year round residents and over 45,000-50,000 visitors in the summer months. There is no doubt that Wrightsville Beach is a hidden gem of the east coast.
Call Your Local Power Washers
910-479-4892
Crystal Clear Shine
Average rating:
7 reviews
Jan 30, 2019
Best window cleaners in North Carolina!!!
Jan 30, 2019
My family and I were very impressed with this company! They made our roof look like new again! We will be calling you guys soon, for more soft washing services !
Jan 23, 2019
Wow do our windows look great, your employees worked hard and finished our home quickly. Thank you for spot free windows!
Jan 23, 2019
Thank you for getting our gutters all clean!
Jan 19, 2019
5 star service, 5 star company! I highly recommend this company to all my neighbors in Wrightsville Beach!
Jan 19, 2019
I was very impressed with the high quality work that was done for cleaning my windows. They cleaned up after themselves and even cleaned my window sills!
Jan 19, 2019
This is the power washing company around! They are polite, show up on time, and do an excellent job!!